Kasandra Flamenco Presents
"LA TARARA"
Explosive flamenco spectacular with dance stars direct from Spain, Ivan Vargas Heredia and Emilio Ochando!
"Iván's dancing is… intense and mesmerizing…the word "powerful" seems pitifully inadequate to describe his impact"
May 4 and 5, 2017 8pm
Norman Rothstein Theatre
950 W 41st Ave, Vancouver
May 6, 2017 8pm
The Arts Centre
4335 Blackcomb Way, Whistler
artswhistler.com
May 7, 2017 7:30pm
The ACT Arts Centre
11944 Haney Place, Maple Ridge
theactmapleridge.org
Kasandra Flamenco is thrilled to present "La Tarara", an adrenalin infused dance spectacular featuring Flamenco super stars direct from Spain, Ivan Vargas and Emilio Ochando, with Vancouver virtuoso, Kasandra "La China", and international musical cast directed by Gaspar Rodriguez, on May 4 and 5 at the Norman Rothstein Theatre at 8pm in Vancouver.
"La Tarara" is a fiery encounter between flamenco dancers of very different backgrounds and a meeting between the raw intensity of Flamenco Dance and the refined elegance of Spanish Dance. Ivan Vargas, of Roma bloodline, was born in the caves of Sacromonte and hails from Granada's flamenco dynasty "Los Maya". Ferocious and primal, he evokes the essence of Flamenco Puro – the expression of pure unadulterated emotion, in search of the elusive "duende" where magic ignites as the artists fuel the fire! He collides with six time award winner and dance phenomenon from the Spanish National Ballet, Emilio Ochando, who is classically trained in Spanish Dance.  His ability to dance ballet, danza espanola, folk, bolero and flamenco has lead to his incredible style that rests on the cutting edge of flamenco dance aesthetic in Madrid, a potent mix of highly technical and virtuosic mastery blended with elegant contemporary movement.
"La Tarara showcases explosive flamenco dance in a tale of brotherhood and rivalry, jealousy and romance. The beauty of Spanish lyrical dance versus the power of the Roma passion results in a dazzling production, full of drama and bravado," explains Kasandra "La China", "This show could only happen at an international artistic crossroads such as Vancouver, because these artists would never even meet in Spain!"
Audiences will also revel in the rich music of award-winning, international musical director from Malaga, Gaspar Rodriguez, composer of twelve international flamenco productions. Rodriguez is recognized as one of Spain's most expressive and innovative artists, and many aficionados will recognize him as the musical director of Nuevo Ballet Espanol.  The voice of powerhouse Flamenco singer Vicente Griego "El Cartucho" resonates the production along with the sonorous tones of cellist "La Sirena", and rhythmic groove of flamenco cajon by Italian percussionist, Davide Sampaolo.
Highlights include:
Rapid-fire footwork of epic proportions between fiery flamenco dancers
Faceoff between Emilio Ochando, master of Castanets, and Ivan Vargas dancing with the flamenco cane, the baston
The alluring dance imagery of the seductive Spanish Bata de Cola (long train dress) by Kasandra "La China" and soulful dance duets
Rich musical score of international composer, Gaspar Rodriguez
The beauty and grace of the old Sevillan style danced by Kasandra "La China" with Cordobes sombrero (hat) and the fluttering of Spanish abanico y pericon fans
Dancers:
Kasandra "La China", Artistic Director
Ivan Vargas Heredia, Bailaor, Flamenco Dancer
Emilio Ochando, Bailarin, Spanish Dancer
Musicians:
Gaspar Rodriguez, Musical Director
Vicente Griego "El Cartucho", Flamenco Singer
Cyrena "La Sirena", Cello
Davide Sampaolo, Cajon & Percussion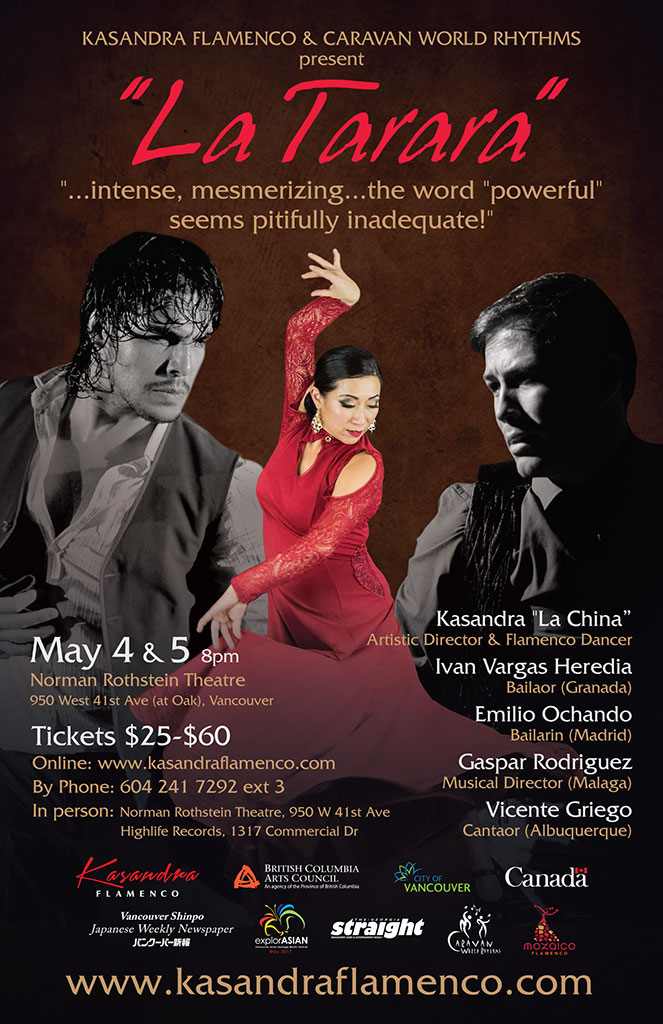 "Kasandra "La China" is one of Canada's leading flamenco artists renowned for her unrelenting drive to push the artistic envelope. Kasandra is always hungry for new sources of inspiration and knowledge, constantly pushing her musical and choreographic mastery to its limits. She elicits combustible chemistry among artists and has forged collaborations with national and international flamenco artists to critical acclaim. "Vancouver's flamenco star who has embodied flamenco with her dynamic, precise style"
Flamenco-World magazine.
Sponsored by:
Al Mozaico Flamenco Dance Academy
Caravan World Rhythms
BC Arts Council
City of Vancouver
Canadian Heritage
ExplorAsian
Georgia Straight
Kasandra Flamenco
Vancouver Shinpo
Media Contact: Debora Gordon 604.727.4836 | debgordon03@gmail.com