"Ritmo Y Soniquete"
Rhythm & Groove – hot and fiery Flamenco, as it should be!
October 29, 2017 – 3pm and 8pm
The Cultch
1895 Venables Street, Vancouver
Kasandra Flamenco is thrilled to present "Ritmo y Soniquete", a super charged, high octane flamenco show starring some of Spain's hottest flamenco musicians, singer Miguel Rosendo and festero Luis de la Tota, with the fire power of Barcelona's bailaor, Jose Manuel Alvarez. Experience the Kasandra Flamenco Ensemble at its most raw and powerful, showcasing the best of improvisational, rhythmic Flamenco with spontaneity, passion and emotion. Experience pure flamenco at its roots as the artists torch the stage! One day only at The Cultch, October 29 at 3pm and 8pm. Go to both shows because each performance is a unique one–time–only experience!
"Ritmo y Soniquete" takes us to the roots of Flamenco, where its primal essence resides in the expression of the cante (song) and the rhythm. "These artists embody the dark, primal side of Flamenco, what we call Coraje," says Kasandra "La China", "Literally translated it means courage but it means to show your ferocity, guts and take emotional and artistic risk." Witness true virtuosity in flamenco musicianship, "rhythm and groove" the artists offer up their souls in search of the elusive "duende" where magic ignites in one spontaneous moment.
Traditional Flamenco is performed by a "Cuadro" and this ensemble is on steroids. The singer, guitarist, dancer and percussionists engage in a constant interplay of jazzy improvisation, each taking the lead but deferring to outstanding tenor, "cantaor" Miguel Rosendo, of Spain's largest international touring company, Sara Baras. Paired with childhood friend and palmero, Luis de la Tota of Roma origins from the birthplace of Flamenco, Jerez de la Frontera, these two are unmatchable, with chemistry, soniquete and power to ignite the audience! On guitar, we have Gareth Owen whose flamenco journey has led him to breathe flamenco in the cradle of Jerez de la Frontera. To complete the cuadro we feature Davide Sampaolo from Rome on cajon; since the rise of Paco de Lucia, the cajon drum box from Peru has made it into the cuadro's repertoire.
"Ritmo y Soniquete" features rhythmic powerhouse, Jose Manuel Alvarez, known for his feline, technical prowess and bravado, who has danced his way through Spain alongside the legendary Antonio Canales. Alvarez, artistic director of Las Ramblas in Barcelona, is celebrated for his incredible technique, musical footwork and his spontaneous improvisation in the tablaos of Spain.
Highlights include:
Flamenco musical mastery in guitar, cante, percussion to rival any jazz festival headliner.
Rapid-fire footwork of epic proportions by Jose Manuel Alvarez.
Passionate baile by Kasandra "La China" in traditional flamenco & bata de cola long skirt train.
Pure soniquete and groove by one of the world's greatest palmeros, Luis de la Tota.
Magical cante by Miguel Rosendo, hailed as one of the great cavernous voices from Cadiz with Andalucian "echo".
Dancers:
Kasandra "La China", Artistic Director
Jose Manuel Alvarez, bailaor
Musicians:
Miguel Rosendo, cantaor
Luis de la Tota, festero & palmero
Gareth Owen, guitar
Davide Sampaolo, Cajon & Percussion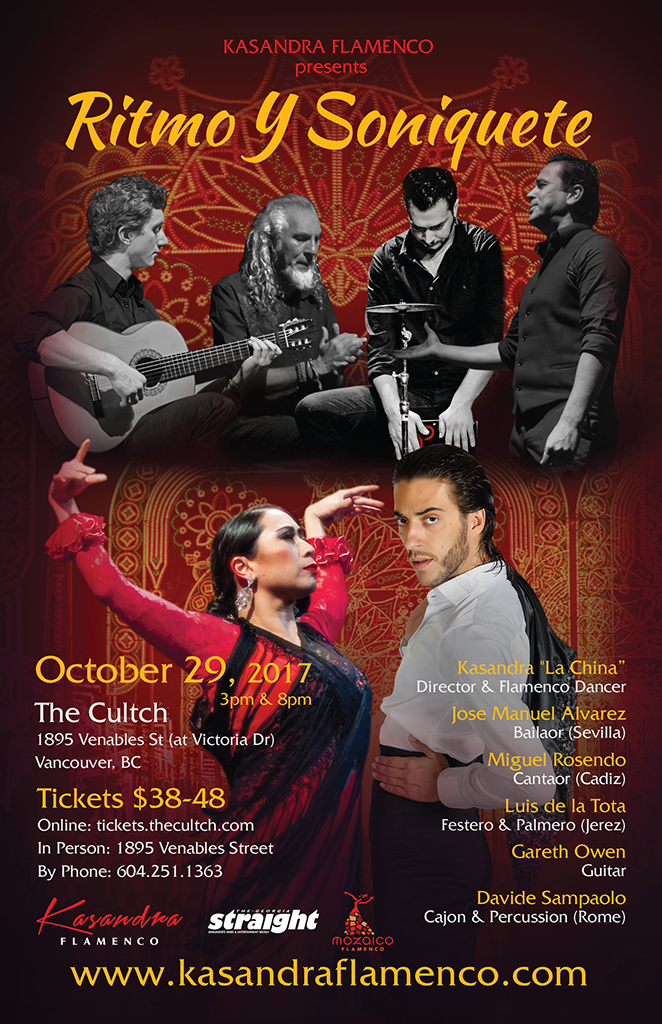 "Kasandra "La China" is one of Canada's leading flamenco artists renowned for her unrelenting drive to push the artistic envelope. Kasandra is always hungry for new sources of inspiration and knowledge, constantly pushing her musical and choreographic mastery to its limits. She elicits combustible chemistry among artists and has forged collaborations with national and international flamenco artists to critical acclaim. "Vancouver's flamenco star who has embodied flamenco with her dynamic, precise style"
Flamenco-World magazine.