Encuentros
Passionate Percussive Dance Encounters
May 1, 2016 at 7:30pm
Vancouver Playhouse
Vancouver, BC
May 5, 2016 at 7:00pm
Vancouver Island Conference Center
Nanaimo, BC
May 6, 2016 at 7:30pm
Alix Goolden Hall 907
Victoria, BC
Kasandra Flamenco and Caravan World Rhythms are proud to present Encuentros a percussive dance spectacular revealing passionate encounters by some of the world's great dancers in Flamenco, Irish, Tap, and Egyptian Belly Dance!
Led by master Flamenco dancer Kasandra "La China", Encuentros presents Flamenco and dance artistry at the highest calibre with a combustible chemistry and musical energy that flows like water and skips like fire. Through the passionately dark to the delightfully playful, catch this amazing spectacular.
In a stunning display of romance, seduction, love and jealousy, Artistic Director Kasandra "La China" and International guest artists, Ricardo Lopez (Flamenco dancer, Madrid), Joel Hanna (Irish Tap Dancer, Vancouver/New York), and Egyptian Belly Dancer Ashley Kirkham, throw down the gauntlet and meet on the dance floor!
With powerhouse Flamenco singer, Vicente Griego, and live musicians playing Flamenco guitar and Cajon, Oud and Darbuka, the dance is showcased with profound musicality.  The beauty of lyrical dance and the power of percussion result in a dazzling presentation, full of drama, intensity and bravado.
Kasandra "La China" explains:
"Encuentros is a rich exploration of human interaction and expression. As dancers encounter each other, each reveals a personal journey of joy and sorrow, jealousy and rage, loneliness and, hope. We are able to create rich, seductive dance duets with male dance partners of such star power…Ricardo Lopez from Madrid and Joel Hanna from New York's Broadway…a rare treat in Vancouver!"
Highlights include:
a dramatic face off between the flamenco virtuosity of Ricardo Lopez and the potent athleticism of Irish dancer Joel Hanna
the alluring dance imagery of the Spanish bata de cola (long train dress)
soulful evocative belly dance
rapid-fire footwork of epic proportions in a jealous love triangle
Dancers:
Kasandra "La China", Artistic Director, Flamenco Dancer
Ricardo Lopez, Flamenco Dancer (Madrid)
Joel Hanna, Irish/Tap Dancer
Ashley Kirkham, Egyptian Bellydancer
Mozaico Flamenco Dance Company
Musicians:
Gareth Owen, Flamenco Guitar
Vicente Griego, Flamenco Singer (USA)
Davide Sampaolo, Cajon & Percussion
Tim Gerwing, Darbuka
Serwan Yamolky, Oud

What the audience says:
"Encuentros was so creative. I got lost in the show and it left me breathless. Sensuous and breathtaking, I could not believe what I was seeing."
"Kasandra and Ricardo together was a reckoning of two souls bound by love, pain and joy. Their performance embodied a terrible beauty: the art of loving and being alive in this world."
"Kasandra "La China & Joel Hanna were delightfully playful in Dance with Me."
"The dance was absolutely FANTASTIC, technically excellent, artistically stupendous. The musicians were fantastic – worth the show in itself."
"Combustible on stage chemistry and a shared musical energy that flows like water and skips like fire…"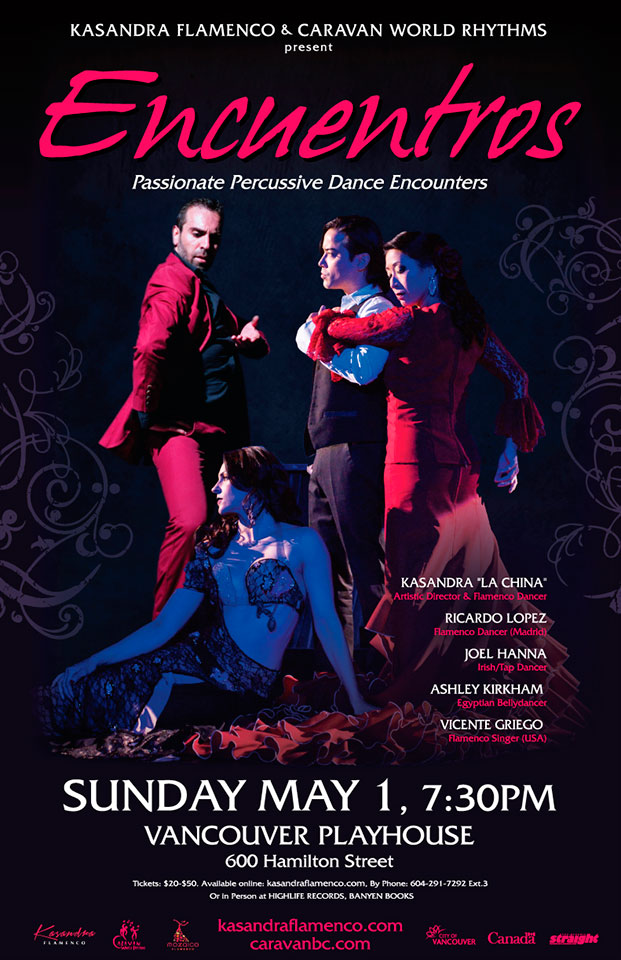 "Kasandra "La China" is one of Canada's leading flamenco artists, renowned for her unrelenting drive to push the artistic envelope. Kasandra is always hungry for new sources of inspiration and knowledge, constantly pushing her musical and choreographic mastery to its limits. "Vancouver's flamenco star who has embodied flamenco with her dynamic, precise style" Flamenco-World magazine.